Monthly Subscription
sign up for our amazing offer's and receive beautiful boxes of our handcrafted goodies
Join Here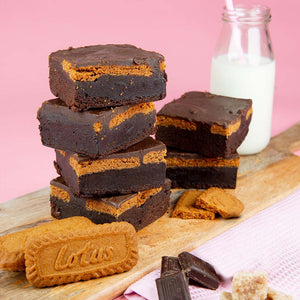 Based in the North East of England The Travelling Spoon ltd bakes the fudgiest blondies and brownies in all the land.
As an independent bakery The Travelling Spoon do not rely on wholesalers or third party bakers; each and every single slice of your scrumptious fudgy chocolatey delights are made right here at The Spoon- hand made by Emmy with love, which is why each bite of her brownies, bakes and other sweet treats will carry you off to a moment of ultimate pleasure!
From your brownies to your blondies to your flapjacks and fudges and pick and mixes to annual subscriptions, you can now order straight to your door with a click of a button.
The bakery use the very finest and ethically sourced ingredients to ensure we meet the highest of standards for all our customers.
Using free range eggs and working with local farms in Northumberland and all of our chocolate comes from sustainable sources.
All the brownies, blondies fudges, cakes and bakery goods are suitable for vegetarians. We also have a very popular vegan and wheat free range, all of which can be found on this website for you to order straight to your door.
The brownies and blondies are suitable for home freezing for six months and will keep in the fridge or in a cool dry place for up to two weeks in an air tight container.
Expiry dates and nutritional information is displayed on all packaging, however If you have any questions please drop an email to emily@thetravellingspoon.com
When placing your order with The Travelling Spoon you are supporting an independent small family run business. The great news is we bake your order fresh, making the brownies and bakes that bit more special and super fresh for you on arrival- but we do ask you to be patient as it can take up to 5 working days to dispatch depending on current demand. If you have any questions about dispatch times drop an email to emily@thetravellingspoon.com
Your order will be delivered by Royal Mail.
We continue to work closely with Emmy's chosen charity "The Tiny Lives Trust"
When shopping with The Travelling Spoon today we ask all our customers to be kind and add a bag of our "Tiny Bites" to your order at £2 they are a steal and 100% of your £2 goes to The Tiny Lives Trust which supports all premature and sick new born babies and their family's at The Royal Victoria Hospital in Newcastle upon Tyne.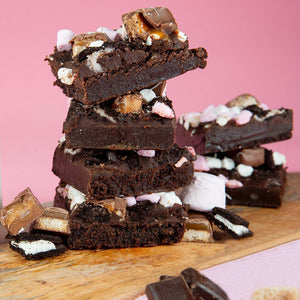 Suitable for home freezing
stash away some yummy treats for a later date